One of the joys of my job is that it is so varied. I can be ringing Song Pictures Animation in Washington one day (that was Monday) and re-telling the creation story in Canterbury Cathedral crypt another (that was today). I love the range of activities I get to be involved in and the fun of working along side many fab people as we muddle/stumble/blag/carefully plan our way through children's work together. Today was a Cathedral schools day, and I joined the team welcoming 80 year 6's from schools across East Kent in to the beautiful space that is Canterbury Cathedral.  I was leading one of four prayer stations that the children visited before doing various workshops based around 'worship'. They then all came together at the end of the day for a closing celebration culminating with enthusiastic action songs, prayers the children had written and stones they had carved bought to be laid in the center of the nave in a cross shape.
The prayer stations were about caring, community, confession and mine; creation. It was great fun re-telling the creation story, and the children soon picked up on the repetition and started to join in. We then thought about what they like about creation and what they were thankful for. We had some great answers – from favourite animals (turtles seemed to be unexpectedly popular) to colours in sunsets, yummy fruit (strawberries) to best friends. Trains also featured, though we decided that we were grateful for the people who made the trains…
All the children were then asked to create a creature from plasticine and add it to the creation display that we were making. They were given the option of making their favourite thing (usually animal) in creation, or to form a new creature that they would have if they were to make the world. The teachers also seemed to enjoy this and most made something! We had a fantastic range of things; snails, dolphins, a stingray, flying pig and a spiraffe (spider-giraffe) along with a whole family of turtles, a platypus and a collection of unicorns. Turns out one of the classes has a group of girls known as 'the unicorn fan club'…well there you go! The children seemed to engage with the idea of creation and being a creator. The conversations that were had whilst they were creating were lovely, and great to be able to chat to the children about all sorts. Lots wanted to find the Philippines on the world map, as they were very aware of what happened there last week. We also talked about other countries – the different landscapes and animals found there, and the vast range of creation across the world.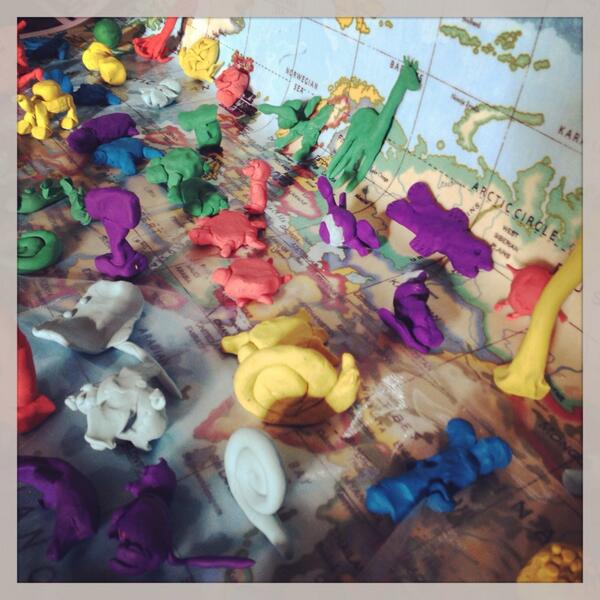 As is so often with these sorts of times, I find myself learning so much from the children and come away being reminded of and challenged by things God has been speaking to me about. For a few months now, I've been mulling over how children can engage in prayer. So often we can limit them from such a young age, that by the time they are teenagers there is the potential for them to be stifled into a particular style of praying which in any other situation would be unnatural; sitting in silence with eyes shut and not knowing what to say. We – and they – communicate with friends all the time. Whether that's face-to-face, texting, on the phone or email.  Sometimes for hours, sometimes for a few minutes. Whatever it is, we can show children how this can be reflected in our communication and relationship with God.  Giving children the opportunity to pray using props, playdough, music, maps, sand, post-it notes (the list is endless) allows them to experience encountering God in the 'everyday'. It brings having a 'chat with God' into normal life, and something that they can take hold of and use wherever they are. I want them to know that it is just like talking to their best friend. We can tell God about our day, what we're annoyed with, what made us laugh. We can ask God questions and learn to wait for answers. We can say thank you, sorry and please. We can also praise and worship God for who He is and what He has done for us. A few weeks ago I set up a room as a prayer space for our 5-11 year olds to use during a Sunday morning session. There were 6 stations to go to, and they responded to it really well. Even the older boys were engaging in intereactive activities where they'd usually be talking about football whilst lying on the floor as soon as 'prayer' is mentioned. Twenty minutes wasn't enough; they all wanted more. More! Who'd have thought children would want to keep praying?
If you are interested in more about this sort of thing, the Prayer Spaces in Schools organisation have lots of resources and ideas on their website. Have you had any experiences you want to share about praying with children or young people? Let me know! I've by no means got this sorted, and it's something I'm still working on in the context of the children at our church. But there's some thoughts which may get you thinking in some way or other. 
My prayer is that our children grow up knowing that their Father in heaven wants to spend time with them, cares about everything they care about and loves them no matter what. Amen.